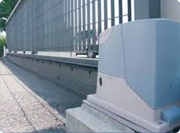 One point security can install or repair virtually any type of automatic gates. We pride our work as being some of the best in the industry.
One point's security has earned us a reputation for selecting the best and most robust automatic gate motors that will stay running in daily use for years to come.
From light to commercial automated gates we can install, maintain or service them for you. Regardless of what type of gate you have or want we can install, service or repair roller gates, swing gates in fact any type of electrically operated gate.
Automatic Gate and Motor Installations
One point has a Selection of electric motors for all types of sliding gates, roller gates and wooden gates. In fact any form of retractable gate we can service, repair or install.
Contact Us
Call Tyson to request a quote on installing your automated gate today (071 846 7554). We will assess the weight, swing or slide of the gate to be opened and provide a fair and honest quote that is in-line with insurance and body corporate standards. All work guaranteed.